Easy! How to Scale with Raging Fans
Lessons to be learnt from "Encounters on the Edge". How walking The Three Capes Trek in Tasmania can open your eyes to the questions that might need to be asked to scale up more easily in 2020.
Published December 29, 2019
A few weeks ago I had the delight of walking the Three Capes Trek in Tasmania. What the Tasmanian Parks & Wildlife Service label
As their beautiful booklet shares …
This highly ambitious, world-class, innovative, multi-million dollar project was conceived, managed and executed by ordinary people doing extraordinary things - a true labour of love. Over 400 people …
And boy have they done it well.
Daily a maximum of 48 souls (and as of November they were full every day through to the end of January) board a boat at the historic Port Arthur to be transported to the sandy beach of Desmans Cove and the beginning of a wonderful few days.
It is not the experience per se I want to share though, it is the philosophy they embody that really impressed me and its relevance to scaling up.
You see during my introduction at any of the public "Scaling Up Business Growth Workshops" I facilitate I am likely to ask the question …
What is the number one job of all our businesses, products, and services?
Leads to some fascinating and illuminating responses but the one I am particularly looking for is "easy". How do we make the lives of our customers, and our customers customer, easier?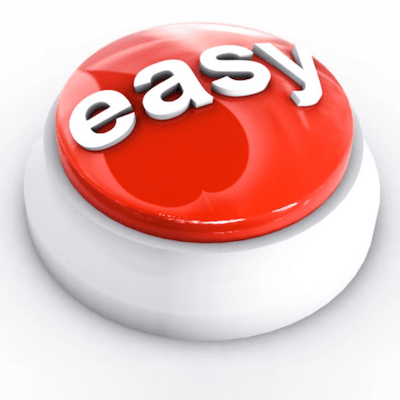 The Tasmanian Parks & Wildlife Service have done that in spades in the design and build of the Three Capes Trek.
Interesting – how the hell do you do that?
There is plenty of ascending & descending as you walk from, and to, sea level via multiple rises up to 500m above sea level. All the while lugging 10-15Kgs of gear, food, and water!
How do you make a 48km trek 'easy'?
It is the attention to detail and the little things.
Lesson in there for all of us:
Providing a comprehensive 95 page booklet with maps, stories, history, flora and fauna information – all with lovely images
Having a range of creatives build and install 27 fantastic, unique seats. What are more accurately referred to as "story seats". Story seats because at each and everyone you can stop, relax, rejuvenate, and … read a story from the booklet. What a great idea, comfortable and enforced rest stops with fun titles like:
'Sex on the Cape' – see that grabbed your attention. 🙂

'The Dark Side' – you want to know don't you?

'Blood on the Velvet Couch' – out here??

'Dragons Den' – and on, and on they went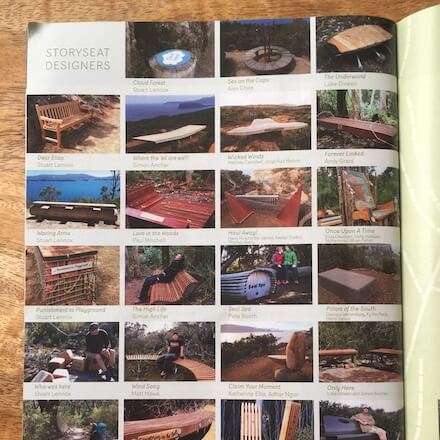 Nearly every kilometre of the Trek has timber walkways or lovely, flat, stone paths built to protect Mother Nature and make the walk as comfortable as possible
Step construction consistently built with a standard height and depth to make a continual stepping pace up or done easy to execute
The Trek includes three nights accommodation at Lodges strategically placed along the way. Once again, despite being self-catering and bunk-rooms, the facilities were carefully thought out, clean, and comfortable
Couple of fully fitted, commercial standard kitchens
Drop toilets that didn't smell, were always clean, and 'felt' as much like a 'normal' loo as one can expect when out in the wilds
A welcoming, passionate host – all three of whom did a great job of presenting to the whole group, educating us and preparing us for the next days adventure
Comprehensive library of books at each Lodge both to educate and inform on the area but also to provide relaxation in the form of 'trashy', and classic, novels. And get this – each library had the same books so you could pick up where you left off without having to carry them. That's what I mean about the 'little' things that make life EASY for your customers.
I could go on but I am sure you get the picture. Phenomenal execution. Don't forget as well that all resources for construction, including the people, was flown in during hundreds of hours of helicopter flight.
For the record the other thing that makes this most probably …
Australia's Premier Coastal Walk
… is Mother Nature. It was just so nice to not only have the awe-inspiring, and at times very scary, sea-cliffs to admire but also; rainforest, wet eucalyptus forest, scrub, heathland, and moorland. All with diverse flora, fauna, birdlife, and wildlife.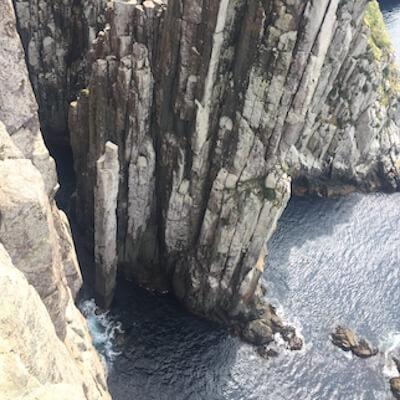 A treat indeed!
So there you have it.
On the inside back cover of their booklet is a quote:
The best journeys in life are those that answer questions you never thought to ask.

Rick Ridgeway (Mountaineer, Adventurer, Environmentalist, Writer, Filmmaker)
What questions could you be asking your team, your customers, your customers customers so that the journey in 2020 is an easier one for all of them … and you?
Until the next time, keep scaling?
Oh and before I sign off … if you are curious to understand scaling up a little more the founding father Verne Harnish will be in Sydney in February 2020 running a Scaling Up Summit. Go HERE to find out more.
#threecapestrek #scalingup #rockefellerhabits #leadership #communication #scaleup #businessgrowth #businessleadership #businessleader #businessowner #3HAG #committogrow