Scale up your business and grow profitability faster
Rockefeller Habits Certified Scaling Up Coach
Reframe and revitalise your team to reach their potential
PSA Certified Speaking Professional
Grow your business with ease, speed and confidence
Metronomics Coach
Some of Hugh's valued clients
Everybody [in our team of senior directors and managers] took away something that they could go back on and work with. Subsequently they've contracted Hugh to work with their management teams.

The late Ashley Spencer, Hilton Australasia Vice President
Hugh Gyton
With over 25 years' experience as a sales trainer, coach and behavioural change agent, Hugh passionately promotes his ethos that "people buy people first". Hugh's message is vital for anyone who wishes to surround themselves with healthier, more contented individuals – and for anyone who cares about building a better, stronger workforce in a happier more cohesive environment.
Hugh's personal journey of adversity and success spans three continents and encompasses grief, joy, loss, success and abundance. Through his rich tapestry of real-life experiences and Hugh's art of good conversation, Hugh inspires people to reach their potential – both personally and professionally.
Hugh is in high demand as a keynote speaker and as a corporate mentor and coach. Working with large, multi-cultural groups Hugh illuminates the benefits of positive body language, outstanding personal presentation and mindful conversation.
How Hugh can help you
Professional
Speaker
Hugh is an amusing, warm and intelligent Certified Speaking Professional that inspires individuals, teams and audiences to reach their personal and professional potential.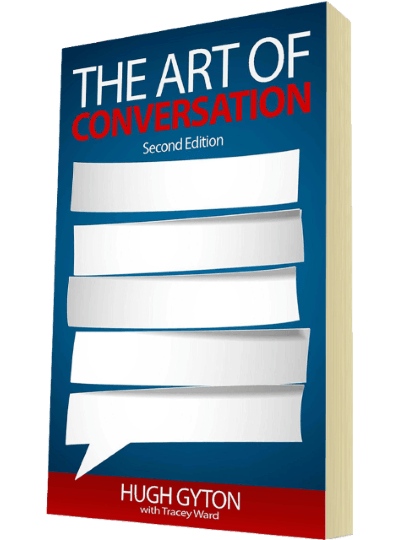 The Art Of Conversation™
By Hugh Gyton with Tracey Ward
A brilliant analysis of what makes good conversation with practical, straightforward advice and entertaining anecdotes, The Art Of Conversation™ gives you the tools to expand your conversation skills and get the most out of life.
What a pleasure The Art of Conversation is to read. It's accessible, practical, and interesting, and will impart much-needed knowledge to everyone who reads it.

Kaaren Watts
Well done on putting together such a logical, simple approach to mastering the art of conversation - this will be a handy tool for the women leaders I mentor.

Jen Dalitz
Hugh's excellent book is a must read for anyone who wants to create and develop better relationships with people. I would like to see this taught in schools! Well done Hugh, great book.

Gerry Keegal Clay Pigeon Shooting Association
A brilliant analysis of what makes good conversation. Easy to follow. Full of positive suggestions and great tips.

David Hill
Thanks for sharing your joy of living with me! I found the "Art of Conversation" a joy of a read because of both its universability and real-life examples in everyday life.

Dr Danny Beran Smarter Retirement